LEGION OF THE DEAD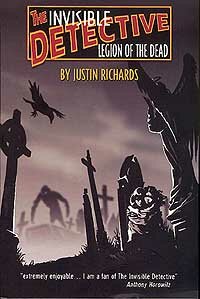 The Invisible Detective's eigth amazing investigation
Publication Date: Sept 2005




London, 1937: The Invisible Detective can solve any mystery, great or small - but no one's ever seen his face. Truth is, the detective is the creation of four extraordinary kids who combat crime in his name...

London, today: Arthur Drake is not impressed by a publicity stunt. But if a celebrity wants to get lowered into the Thames in a glass box, that's his problem. Or is it? Soon Arthur discovers that it could spell disaster for millions of people.

A Roman coin, a strange burglary, and a mysterious attack outside a graveyard. When Art and his friends investigate, they discover more than they bargained for - a missing treasure, a ghostly figure, the legend of a lost Roman legion. What has counterfeit money got to do with an ancient pagan spirit of darkness? Can they solve the mystery in time to avert disaster?


---