GHOST SOLDIERS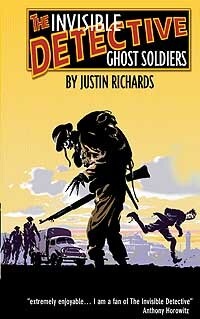 The Invisible Detective's third amazing investigation
Publication Date: 2nd October 2003
DOWNLOAD THE FIRST CHAPTER IN PDF FORMAT!

Haunting
London, today: : Arthur Drake is haunted. He is haunted by memories from 1936 that are not his own. He is haunted by a girl from school who turns up where and when he least expects it. He is haunted by the ghosts in a deserted and derelict old house…

A ghostly presence
London, 1936: Whatever your problem, the Invisible Detective can find the answer. He is a mystery, an enigma. In fact, the truth about the Invisible Detective is known by only four children – the ones who created him. Meg can spot if you're lying. Jonny can run faster than anyone. Flinch can squeeze through the smallest of gaps. And Art… he's their leader.

Investigating a strange death and a haunted house, Art and his friends are drawn into a mysterious world where nothing is what it seems, and nobody can be trusted. There are monsters on the streets of London – monsters dressed as soldiers and trained to kill. As a terrifying plan is put into action, only the Invisible Detective can stop the Ghost Soldiers.


---