STAGE FRIGHT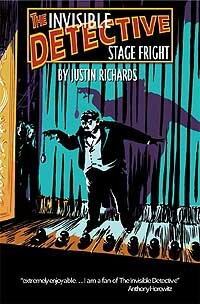 The Invisible Detective's Seventh amazing investigation
Publication Date: Sept 2005




London, 1937: The Invisible Detective can solve any mystery, great or small - but no one's ever seen his face. Truth is, the detective is the creation of four extraordinary kids who combat crime in his name...

London, today: Arthur Drake is intrigued to discover that the haunted Castle Theatre is to open again. But when he and his friend Sarah explore the old theatre, Arthur starts behaving oddly. Somehow, he just isn't quite himself...

A haunted theatre is the latest case brought to the Invisible Detective. But how is the theatre linked to the strange behaviour of a top civil servant? Art and his friends find themselves caught up in a world of intrigue where no one is what they seem and even their best friends can't be trusted. Can they solve the mystery before the final curtain?


---